Whatever "normal" will look like, but it is starting to feel like the world is adjusting. Children are heading back to school, we can go to the gym again and enjoy a drink at a pub. Eating out to help out is a storming success (for the economy, but perhaps less so for our waistlines!)
Perhaps as importantly for motoring enthusiasts, we can now get back to our favourite motoring hangouts and meet up with our fellow petrolheads again – sadly, it does mean that our favourite roads are getting a bit busier again but we'll always have the memories of deserted roads at sunrise.
Our roundup this month mixes the usual news from the motoring world – new cars, special cars, industry updates and insurance news. Please keep telling us what you like and what's not so good; your feedback so far has been a huge help in creating content for you all.
Covid-19 Update
We've written previously about some of the things to be mindful of as we all return to the roads after months of relative in activity.
Many of us have driven thousands of miles less than normal and in the absence of car trips for work, pleasure and even the school run, we're taking to 2 wheels (or even 1 or 3 in some cases!) and foot as thousands rediscover arguably simpler ways of both travelling and exercising. Bike shops are reporting both record sales and empty displays and the Government assisting with the scheme offering a £50 servicing voucher to help resurrect that old cycle sleeping at the back of the garage.
Whether the onset of colder months will see scores of bikes appearing on the second-hand market and a return to the car remains to be seen – we sincerely hope not – but in the meantime, it's worth being aware of the increased level of cyclist and pedestrian activity as more of us venture out on the roads once again.
The link below provides a little more insight but our advice is to stay alert, give others sufficient space and be proactive – whether you're in the car, riding or on foot.
Car News
We've seen several months of big model launches and September sees a quieter pace, dominated by German powerhouse models but with a new kid on the block at the opposite end of the spectrum.
We begin with Audi a busy month with firstly the S3. With just over 300hp, this model will sit just below the forthcoming RS3 and available in saloon and Sportback versions.
Next, the SQ7 and SQ8 rumble into town with a new V8 turbocharged engine boasting 500hp and equally impressive acceleration figures for large SUV's.
Audi is claiming a world first for the third model we're featuring – this being 3 electric motors powering the E-Tron S and E-Tron S Sportback; two on the rear axle and one up front give this mid-sized SUV almost 500hp and performance figures to match. Of more interest to enthusiastic drivers, we suspect, is the utilisation of the motors to recognise wheel slip and send power where needed – we won't bore you with the technical explanation (and others will be able to more succinctly) but the use of electric power to increase the driving appeal of a car has to be a good sign for the future.
We move from Ingolstadt to Affalterbach and AMG.
The GT73 combines the expected high powered petrol engine (in this case, the familiar twin turbocharged V8 found elsewhere in AMG cars) with an electric motor to further enhance performance and reduce emissions.
If you thought that AMG were heading towards, oh we don't know, sensible, then sit back down as they've also introduced a new Black Series model – the badge reserved for their least reserved, loudest and most extreme cars.
This time it's the AMG GT and it meets the criteria for the badge with aplomb. Featuring a host of internal modifications and upgrades to the twin turbocharged 4 litre V8, power is up to 720hp with a maximum speed of over 200mph and able to hit 62mph in just over 3 seconds. Thinner glass, ceramic brakes and extensive use of lightweight materials all add to the focus.
"Racing car for the road" is an overused phrase but not in this case; resembling a full-on racer, the Black Series is bedecked in spoilers and ducts and they clearly aren't for show as downforce numbers are impressive for a road car. As is the price – at £335,000 it's comfortably Mercedes' most expensive current production car.
Our car roundup this month ends with something genuinely new. We hadn't heard of Uniti until recently but their One city car has some very interesting ingredients.
For a start, it's seating layout apes the McLaren F1 – a good start. It's fair to say that beyond this, it doesn't share much with the original hypercar but that's missing the point. It's been designed purely for urban use. Entirely electric, it's operated using an app and includes numerous features found in larger and more conventional cars – LED lighting, electrochromic sunroof, google Android tech powering a pair of touch screens, is this finally the car which will combine technology that we're all used to without losing features that we want from our cars?
We'll be watching this little city EV with great interest.
We couldn't finish this month without mentioning Williams F1 and the announcement that the Williams family are stepping aside, following the sale of the team to Dorilton Capital.
Whilst recent years have most certainly not been kind to the Oxfordshire-based team, they remain the third most successful outfit in the history of Formula One behind Ferrari and McLaren and have been managed by the Williams family since their formation by Sir Frank in 1977 and, since 2013, his daughter Claire.
We'd like to take this opportunity to say thank you to the entire Williams family for the memories and to wish them health and happiness for the future – we can't help but think that this really does mark the end of an era in Formula One.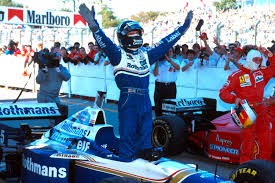 Insurance News
We began with some ruminations on the gradual return to some sort of normal and we're incredibly proud of the Lockton team, both within the Performance and Private Client teams and the wider Lockton family. Working away from our offices has certainly presented challenges but the overwhelming message from our clients is a positive one – it really has been business as usual.
It's amazing how the simple routines which we all thought we wouldn't miss are so nice to partly return to. We know "normal" is still a long way off but, still, it feels nice to feel some elements falling back into place!
Our offices are now open again and our staff are returning to work. We are observing every appropriate measure to ensure that our people and visitors are safe and our commitment to delivering the highest levels of service remain undiminished. Lockton are yet again leading the way forward.
Features Marque
This month we take a look at Ferrari, another of our owners' club partners and the creators of some of the most famous and iconic sports car, click on the links below to read a complete history of Ferrari - part 1 and 2.
Ferrari - A complete history - Part 1