We've all become vigorous hand washers in recent weeks with some amazingly creative suggestions and ideas – particularly for children who seem to regard hand washing as the opposite of cleanliness!
But what about your car?
Firstly, the Government has produced official advice and guidelines for garages which can be found here so if your car needs to visit a garage during or even post-lockdown, then this is a good place to start.
It's very important to highlight that this level of cleaning will NOT remove or kill a virus. To achieve this will require very specific chemicals and methods which are best left to professionals.
What we're aiming to deliver here is some basic help to keep your car as clean as possible and free from germs and bacteria.
Equipment checklist
Antibacterial cleaner
Towels
Glass cleaner
Soft bristled brush
Stiff brush
Vacuum cleaner
Touch points
Think about the areas you touch most frequently – exterior door handles, interior door pulls for a start.
Thoroughly washing the car outside will deal with the door handles so let's open the door and focus on the inside.
Firstly, buy some disposable gloves; they can be found at most automotive and DIY stores. They are cheap and will offer crucial protection to your hands whilst cleaning surfaces.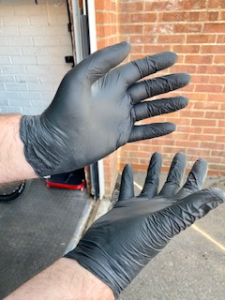 Use an automotive-specific antibacterial cleaner; the writer's preferred product is Gtechniq i2; their website quotes as follows.
"I2 Tri-Clean is an all-surface interior product that cleans and kills 99.9% of bacteria. Developed in conjunction with the global leader in antibacterial and antimicrobial technology, Biocote®, I2 ensures surfaces remain hygienic and fresh, by actively reducing the number of microbes. I2 also contains a true odour absorber, not an odour mask, which eliminates tacky residues that attract dirt."
This product can be used on all surfaces – plastic, fabrics and leather. Always test on an inconspicuous area first to be sure.
Second step – grab some microfiber cloths. Use cheap ones and have several to hand.
For plastics, lightly spritz some cleaner onto your towel. Wipe over the area and then wipe dry with a second towel. Work in relatively small areas and focus on the places you touch most frequently. It helps if you sit as you would when driving and place your hands naturally.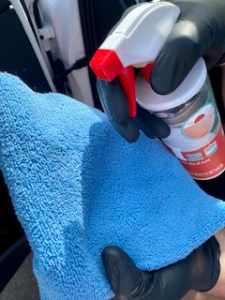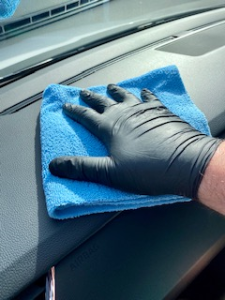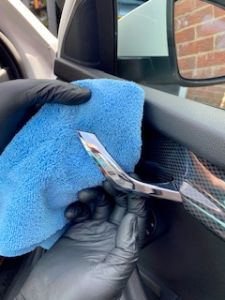 Nerve centre!
Not too long ago, the idea of most functions being controlled via what amounts to a tablet set in your dashboard would have seemed fanciful, almost in the realms of the USS Enterprise. Now even the smallest family car has this sort of equipment as standard.
For touch screens, we'd recommend using a specific glass cleaner. For a start, this is because most screens are made from glass but, more importantly, most glass cleaners are reliant on alcohol as a base ingredient and this is ideal for removing bacteria and germs from a surface.
Again, spritz the cleaner onto a new towel and gently remove with a second new towel.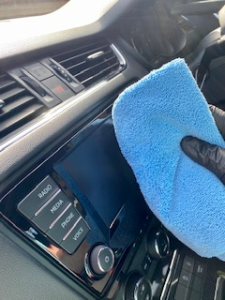 Use the same cleaner and towels for your glass, remembering that less is more – no more than 2-3 spritzes of cleaner per window.
A top tip is to wipe the cleaner on in one direction and off in the opposite – this will help you get even coverage and perfect removal and it works every time.
On the straight and narrow
The steering wheel is the most touched part of your interior. The same method works for both leather and plastic steering wheels and follows the same method as for the plastics – spritz, wipe, dry with 2 new towels.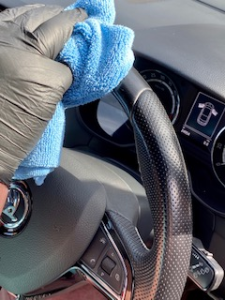 The same method will work for your handbrake and gear knob – these are other frequent touch points.
Like a breath of fresh air
Air vents aren't as hard to clean as you might think. A simple way to clean them is to take a soft bristled brush (makeup brushes work really well) and your vacuum cleaner. Hold the nozzle to the vent and gently brush any dust and debris towards the nozzle. Et voila!
You can buy aerosol based cleaners which clean and decontaminate the ventilation system. You activate and leave them running with the engine also running and fan switched on with recirculation function operating; this process usually takes 10 minutes or so and will clean and deodorise the entire system very effectively.
By the seat of your pants…
Leather, fabric, both. It's likely that you'll have owned cars with a variety of seat materials and again even cheaper cars are now featuring more luxurious materials.
Let's started with fabrics; these are relatively easy to clean. Firstly vacuum any loose debris from the seat and then lightly spritz your cleaner across the surface, wiping gently with a new towel. You don't need to rub; we're not dealing with stains or other marks in this article.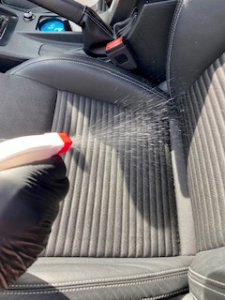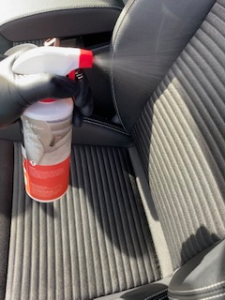 Surprisingly, leather is not different in terms of cleaning; specific leather cleaners can be used but the Gtechniq cleaner mentioned above is safe for use on leather surfaces.
You can apply a protectant to your leather surfaces although again we're focusing on cleaning here.
Alcantara (or faux suede) needs a more careful approach as it should not be allowed to get excessively wet. We'd recommend using a specific cleaner, designed for this type of material.
Getting under your feet
Last on the list is the floor of your car.
First up, take out your mats. If they're carpet, vacuum first, then clean much as you would your seats and leave to dry.
Rubber mats can be cleaned using a stuff brush, your antibacterial cleaner and plenty of water. Rinse, apply cleaner, scrub and rinse again. Repeat for any stubborn marks and allow to air dry. Never apply a dressing to a rubber mat as this may make it slippery.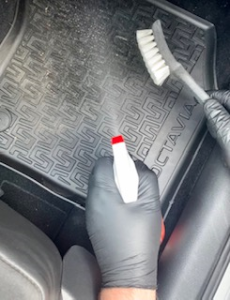 Carpets – vacuum first and then spritz cleaner, wipe gently and wipe with a fresh towel. Soaking carpets isn't recommend as many cars now house some electrical components beneath parts of the carpet. If they're excessively soiled, we'd recommend professional assistance.
And you're done
So that's it – how to keep the inside of your car as clean as possible. You spend more time looking at the inside of your car than the outside so doesn't it make sense for it to look, feel and smell great?
Now you're ready for the return to kids' taxi duties, Saturday football, takeaway pickup, dog walks, mountain biking, all the stuff guaranteed to render your efforts apparently pointless in minutes!
And remember above all that we will be returning to all these great activities with family and car loving friends – and hopefully before not too long.