Lockton focus on the art of the possible when it comes to insuring car collections.
We are passionate about classic and specialist cars and have been looking after car collectors for over 30 years. Our mission is to simplify programmes by removing those day to day barriers that complicate ownership of a car collection and add unnecessary process to the management of the insurance.
Our approach is to genuinely tailor the insurance and how it's delivered to your precise requirements.
This process begins with the cover you need. The conventional approach for many years with car collections situated throughout the world has been to arrange separate policies in each territory with further cover for transit between continents under yet more policies.
This in itself creates a less than streamlined solution, to put it mildly, and further relies on you potentially needing to engage with insurance advisors in numerous countries.
If you move a car from one of your properties, for example, it has to be transferred between policies and in many cases very valuable cars cannot be insured quickly and without protracted discussions with the insurer.
Expensive motor cars are unique in the sphere of most personal assets – unlike works of art, antiques and other valuables, they can simply be used whenever the owner wants. They require no specialist handling when they are moved (other than transportation); a Ferrari 250 GTO, for example can be taken out of your garage and used whenever you want with minimal disruption. Unlike an expensive work of art, it does not need a team of people to carefully remove it from your gallery and theft of such vehicles is comparably lower than fine art and other valuables.
This is why we've designed an approach which challenges this accepted way of protecting your assets and creates a genuinely simplified programme.
Lockton's solution will provide you with a single point of contact at all times, supported by a team of associates to ensure service delivery at all times. You will never be in a situation where one of the team cannot assist you with whatever you need.
Below we've outlined the usual hurdles to successfully insuring car collections based across the world and Lockton's approach to resolving them.
Damage to your cars
This will include damage including whilst your cars are being used under their own power.
Ordinarily, a separate policy is arranged for each territory; we can overcome this by placing all of the cover required for damage to all of your vehicles within a single policy.
In 2019, we updated our own exclusive classic car policy and this is now widely accepted as the market leader. It is underwritten exclusively for Lockton by Axa XL and is not available anywhere else.
In many cases, we are able to improve the cover that cover that is in place and design it to fit your needs perfectly at a competitive premium. Some examples of the cover we can provide are given below. If you require further details, then just hover above each heading and an explanation will be shown.
Diminution of value
Highly original cars can be affected by a reduction in value following an extensive repair. Following a covered loss, we can include cover to bridge the gap between pre-loss and post-loss value.
Automatic Cover for Spares and Vehicle Documentation
If your collection includes spare parts such as engines or gearboxes, we can build in an automatic provision, based on the vehicle's insured value, to cover these spares.
As provenance is integral to your vehicle's value, we can include cover not only for financial loss but also to fund the restoration or recreation of important vehicle documents.
Driving of non-owned vehicles
Our policy will allow named drivers to drive any car not owned by you on a Comprehensive basis. Most policies only provide Third Party Liability protection, so if you have an accident driving a friend's car, no cover is in place for the damage, which is not only embarrassing, but also potentially costly.
Any driver
We can arrange for certain vehicles to be insured for anybody aged over 35 to be insured to drive. This puts you in control and eases administration.
Track days
The safest way to fully explore your car's capabilities is on a track and for club organised trackdays we can include cover for damage up to £1,000,000 and third party liability up to £2,000,000.
Free Additions/Deletions
When you add or dispose of a vehicle valued up to £1,000,000, we will not adjust your premium until your policy renews.
New acquisitions are insured automatically whilst in your garage for up to 14 days; road cover will be added as soon as we are told about them.
Quarterly valuation review
As we are immersed in the specialist car world and see the movements in the market, we do not feel that an annual review is always enough when it comes to the value movements of these cars. Whilst we will build in some inflation protection, sudden spikes in value can create under-insurance issues. We will schedule in a quarterly call to review current market trends and discuss possible changes. In addition, on an ad-hoc basis we will flag up any notable value differences as we become aware of them.
It will operate anywhere in the world so all of your usual storage locations will be shown under the single policy.
Third party cover
Due to international motor insurance rules, set by Law, we can only include third party cover for UK registered vehicles within the single policy. Vehicles registered in certain European countries can also be included.
Where cover is required otherwise, we will engage with locally based contacts and insurers to ensure that the required level of cover required by Law in each territory is in place.
Transportation
If you need to move your cars between continents by air or sea, then this can be included. For sea shipments, some specific conditions will apply but crucially, no additional policies will be required, either via Lockton or the shipping company.
Lockton Credentials in the Specialist Car World
We have over 30 years' experience in the specialist car world.
We are the approved insurance provider for the owners clubs below.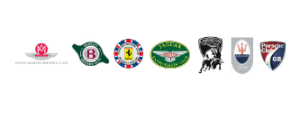 We insure over 13,000 cars for more than 7,500 clients with a total value of more than £1.5 billion.
Lockton are a main sponsor of Salon Prive and Veloce.
Lockton's service
We know that everyone promises you the best possible service. This is what you demand and what you should expect to receive. So how is Lockton different?
Our Private Client team has been built specifically to work for you relentlessly. We are not burdened by corporate hierarchy and this means that we can focus all of our energy on you.
We design our entire service delivery around you and customise our approach based around what you want. We understand that your world can evolve rapidly and our approach centres on remaining agile and flexible, operating with maximum transparency and integrity and with a pragmatism that drives us to get the job done with minimal fuss and maximum efficiency.
We are proud of our unconventional approach and our clients tell us that they like the way we work, how we use innovative solutions to resolve their problems, no matter how complex they appear to be.
Our commitment to you
The right team, designed for you. You will be looked after by an Account Director and Account Executive as your main contacts, supported by sector experts and our in-house and UK-based service team.
Working for you all the time. A personal email address will be provided to you and all emails will automatically be sent to everyone in your service team. This ensures both consistency and prompt response and action levels.
Your service, your way. We will provide a complexly bespoke service delivery, designed to align absolutely with what you want. This will include frequency of service calls and face to face meetings and will be agreed with you from the outset.
Working to your schedule, every time. We deal with many UHNW clients. You may own assets and have interests all over the world and things can happen quickly. Your working world is fast paced and can be unpredictable and working with people who are innovative, fast thinking and agile is the norm. You don't work normal office hours and neither do we. When you need us, we will be there and equally as importantly, we will take problems and challenges, take them away and resolve them.
A trusted partner, not just an insurance broker. Our industry knowledge and expertise enables us to quickly understand your objectives. This in turn means that we can place ourselves in your shoes and work proactively at all time to identify issues before they arise and suggest remedies. Proactive is our default operating practice.
A partner who believes passionately in ethics. We will be honest, transparent and behave with absolute integrity always because it is the right thing to do. Our independence means that we are not answerable to shareholders before clients and we are unhindered by corporate red tape.
Our commitment remains unwavering and our ethics attract some of the best like-minded professionals to work for Lockton because they share our values and determination to provide our clients with the best of everything we do. Our culture excites both associates and clients alike because we value an ethical, moral and caring approach and this empowers our employees to put you first, every time.