I've bundled these in together as once the car is washed, I usually do all the other little bits to make it look just right.
Tyres first. Personally I don't mind a reasonably shiny finish but there are ways to prevent your tyre dressing ending up spraying up the sides of the car. Not a good look.
Firstly, clean your tyres. Honestly, slapping on layer upon layer of dressing doesn't do the tyre much good. And it's lazy. And it simply doesn't work as well.
So, use a good All Purpose Cleaner. This stuff is great – has multiple uses and if you buy it in concentrated form, it's not only better VFM but can be diluted at varying ratios depending on what it's being used for.
Spray onto tyre wall. Then use a stuff bristled brush to scrub. Keep going until you can wipe over with a clean old towel and no dirt or other residue comes away – that's a clean tyre.
Then choose your dressing. This has 2 purposes; one is bling and the other is protection.
I'm more convinced by the bling as modern tyres don't need extra protection. If your tyres are cracked, perished or damaged then it's quite probably time to buy some new ones.
You can use a fancy tyre dressing application sponge or cut up a large yellow one – it honestly makes no difference.
Apply the dressing sparingly and evenly. I usually leave at least an hour before gently buffing with an old cloth (and don't drive the car during this time). This removes any excess product and prevents the product spraying everywhere when I do drive the car. Makes them slightly less violently shiny too.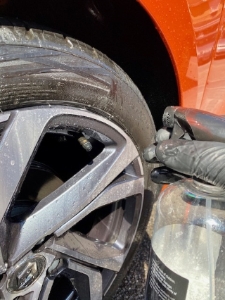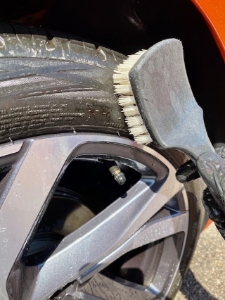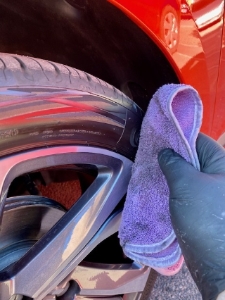 Glass – actually a pet hate of mine to get perfectly clean but more important from a safety perspective – not much use having a sparkling car if you can't see where you're going.
Firstly, use 2 cloths – one for applying a cleaner and another for removing. There are cloths made specifically for cleaning glass and they're well worth using. They're less likely to leave any lint behind or smear the glass.
Any glass cleaner will work and those favoured by domestic window fitters are particularly good.
Spray your cleaner onto your first cloth and apply to glass. If you apply in vertical lines, remove with the second cloth in horizontal lines – I find this makes it easier.
Clean external glass first so you can see whether the inside surfaces are truly clean when you come to clean them.
Windscreen and rear window split in 2 or even 3 sections.
I won't patronise you by telling you how to use a vacuum cleaner but for all other surfaces, adopt the same method as the glass by spraying any cleaner or trim dressing onto a cloth rather than the surface.
This controls both the amount of product you use and where it ends up.
My personal preference is to only use cleaners where there is dirt to remove as many dressings and cleaners can actually increase a build-up of static electricity which attracts dust! A damp towel works equally as well and leaves a natural matt finish.
Cheap makeup brushes are ideal for cleaning air vents – place the vacuum nozzle beneath to catch any debris as you dust.
Leather seats, like alloy wheels, are no longer the preserve of the luxury sector. Most car leather remains a combination of natural and synthetic material but the tricks to keeping either clean are the same.
Firstly, shiny leather is almost always dirty leather. The how and why can be pretty disgusting – safe to say that you sit on the seat and handle the controls.
Modern automotive leather requires only cleaning and protecting – due to the volume of manmade materials, traditional conditioning is barely needed.
I've found that the best leather cleaners and protectors are sold by companies whose business is leather repair and restoration (they're also brilliant at advising and helping you repair damaged leather too) – no fancy packaging or fragrances, just good products which do what they say they will.
You'll need a soft brush, a few clean cloths and your chosen cleaner – the better ones are usually foaming with a pump dispenser.
Apply cleaner to brush and gently work into surface to be cleaned. Work in small sections and remove cleaner with your cloth. Clean, wipe, repeat. Same method for steering wheels, gearlever and handbrake gaiters.
Once clean, your leather should have a satin appearance so you're ready to protect it.
You want a product which will act as a barrier against abrasion and light staining from regular use and, for lighter colours, colour transfer from clothing – think blue jeans on light leather.
Like other surfaces, regular cleaning and protecting will make the leather last longer and look better in between cleaning.