We continue our spotlight on cars known simply by their badge with a car known not only by its model designation but arguably more so by its association with the world's most famous spy and it's perhaps fitting that as we bid farewell to the actor who played the original 007, that we take a closer look at the car that Sean Connery drove whilst playing Mr Bond.
We begin with a slight detour from the silver screen and an anomaly between the car used by Bond on screen and the wheels chosen for him by his creator, Ian Fleming.
Fleming worked within the intelligence sector prior to penning his famous spy novels and much of Bond's persona and exploits are said to have originated during these years. The son of Fleming's boss, Lord Swinton, took delivery in 1955 of an Aston Martin DB2/4 Mk.II and took part in rallies and endurance events. As such, the car was fitted with hidden lockers, strengthened bumpers and an upgraded 'anti interference' ignition system.
It should therefore come as no surprise that when Bond stopped using the Bentleys that he was reported to love (and of course including the supercharged car famously destroyed whilst chasing down Sir Hugo Drax in Moonraker) that Fleming placed him in an Aston Martin in Goldfinger – although somewhat downplayed as a battleship grey DBIII pool car.
The novel was written in 1959, some 3 years before Connery debuted as 007 in Doctor No driving a Sunbeam Alpine but it was a further 2 years before Bond took delivery of his DB5. The car, registered BMT 216A, became the star of the movie despite a relatively brief appearance before, as was common with many of Bond's cars both on screen and in books, being crashed in a scene involving mirrors, henchmen in Mercedes 220's and , of course, a machine gun wielding octogenarian.
The car made a further brief appearance in the 1965 Thunderball before Bond moved away from Astons briefly. More on this later.
So why did Bond end up driving a DB5?
The answer is in part product placement. Today this is commonplace but almost 60 years ago, the concept of promoting your product through the medium of film was a relatively new one. Fleming's Bond had previously driven Bentleys, worn Sea Island cotton shirts and preferred Coopers Vintage Oxford marmalade and Fortnum's Norwegian Heather Honey. His watch of choice was always a Rolex with a stainless steel case and expanding metal bracelet – so had Fleming inadvertently created brand placement some 10 years before 007 became a movie icon?
In the decades since, of course, Bond has driven cars from Lotus to Renault, a Citroen 2CV and (we think sadly too briefly), BMW's Z8 – a perfect Bond car for the 90's. He has worn both Rolex and Omega watches and used phones from a range of manufacturers.
But back to the DB5. Aston Martin were initially reluctant to provide Bond with their newest model; the DB5 was launched in September 1963. It was an evolution of the preceding DB4 model and visually similar; with coachwork designed by Carrozzeria Touring Superleggera of Milan, it was (and remains) a graceful 4 seater grand touring sports car.
Power came from a 3,995cc six cylinder engine, which was a further evolution of the previous car's slightly smaller unit. Power was quoted as 282 bhp, increasing to 325 for the Vantage model. This was achieved with the use of bigger carburettors and reprofiled camshafts. The Bond DB5 is a 'standard' car (in terms of its mechanicals at least!)
The saloon was joined by a convertible model which added the Volante badge. Its predecessor achieved film success in 1969, appearing in The Italian Job – although the car which famously made its exit at the hands of the Mafia was of course a Lancia Flaminia (an equally heart breaking moment for any car lover).
The DB5 was well received by Aston customers and the motoring press. Autocar road tested the car in 1964 and said "More and more cars today can reach the magical 'ton', but those that can do it with the ease and rapidity of the Aston can be counted on the fingers of one hand" – a year or so before the introduction of the 70mph speed limit…
Further positives included the car's flexibility between routine driving and flexing the car's muscles on more open roads. Its list price was £4,248, when the average house price was around £3,400.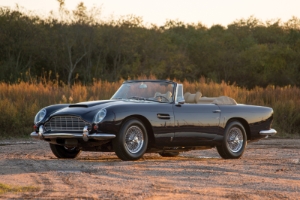 1. Aston Martin DB5 Convertible – Erik Fuller ©2017 Courtesy of RM Sotheby's
Most cars made were saloons but 123 were made in Convertible form and 13 shooting brake – the latter being made at the behest of David Brown who wanted a car in which his dog could travel to avoid it chewing the seats in his DB5 saloon!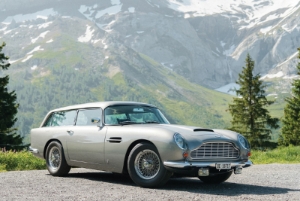 2. Aston Martin DB5 Shooting Brake – ©2019 Courtesy of RM Sotheby's
Aston fitted all but a few early cars with a new ZF 5 speed gearbox – the car that appeared in Goldfinger was fitted with the 4 speed unit. Anorak hint – if you watch the scene where Desmond Llewellyn's Q is talking Bond through the car's features the 4 speed gearknob is visible just before he flips its top, revealing the ejector seat button, replying to Bond's "you're joking" with the reply "I never joke about my work 007!"
Continuing with Mr Bond's DB5.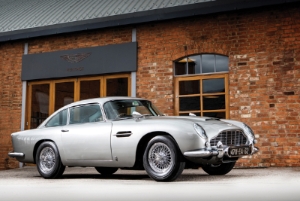 3. Aston Martin DB5 "Bond Car" – Simon Clay ©2019 Courtesy of RM Sotheby's
Aston were persuaded to loan Eon Productions the DB5 by veteran special effects producer John Stears and they duly sent two prototype cars for filming, chassis DP216/1 and 216/2. Interestingly, 216/1 was also seen in its original dark red paint scheme before Goldfinger in a 1964 episode of The Saint , driven by Roger Moore and even sporting what would be the famous BMT number plate – we know, that was a new one on us, too.
Two additional cars were supplied for promotional use and they featured the same gadgets fitted to the cars which eventually appeared on screen.
This brings us to the gadgets; the most important part of any Bond car and we've listed them in the order that the various DB5's run by 007 appear.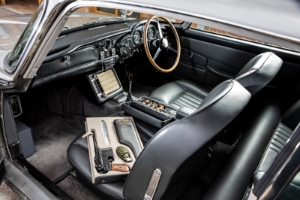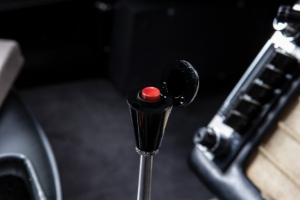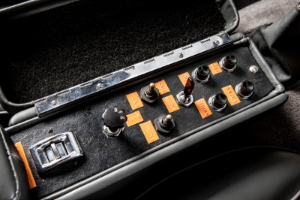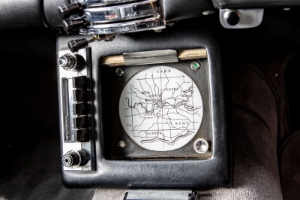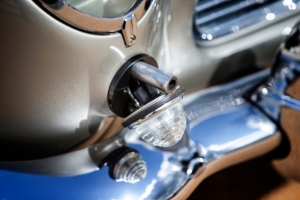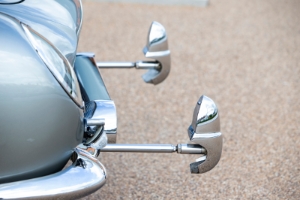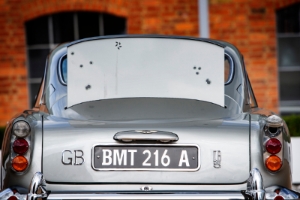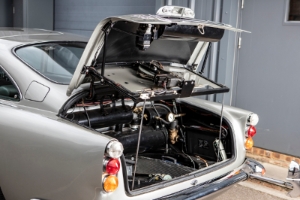 3. Aston Martin DB5 "Bond Car" – Simon Clay ©2019 Courtesy of RM Sotheby's
Goldfinger
Rotating number plates: BMT 216A, LU 6789 and 4711-EA-62 (British, French and Swiss).
2 short barrelled .303 Browning machine guns behind the front parking lights.
Smoke-screen unit.
Oil ejecting device behind near side tail-light.
Caltrops behind offside tail-light.
Hydraulic bullet-proof steel plate covering rear window.
Bullet-proof windows.
Radar – homer/tracking.
Extendable rams in front and rear bumper for close combat.
Tire cutters in the wheels located behind the knock-off centre caps.
Passenger ejector seat with removable roof panel.
Radiophone housed in driver's door panel. (not used)
Thunderball added the following.
2 rear mounted water cannons.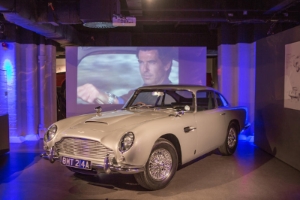 4. Aston Martin DB5 as featured in 'Goldeneye' – courtesy of Bonhams
Pierce Brosnan drove the DB5 in 1995's Goldeneye (where the car was registered BMT 214A and is not one of the original cars) and briefly in the 1997 movie Tomorrow Never Dies and, in another anorak fact, the BMW 750 Bond uses as his main transport, including a memorable multi storey car park sequence, bears the German registration BMT2144. The DB5 featured the following updates.
Colour fax.
Champagne refrigerator.
Brosnan's Bond moved to other marques as his tenure progressed and it was 9 years before Mr Bond was once again behind the wheel of an Aston Martin.
Daniel Craig resurrected Aston Martin firmly as 007's wheels of choice from his debut in 2006, firstly winning a familiar looking DB5 in a poker game before destroying the then newly launched DBS in a scene that made every car lover wince (and even more so when you find out how many cars were wrecked in creating the barrel roll sequence – filmed in Bedfordshire and the writer has actually seen the gouges in Millbrook's Alpine handling course where this was filmed).
2012 saw Craig wheeling 'his' old DB5 out in Skyfall before it met what initially appeared to be a tragic end at the hand of the movie's villain and henchmen (another scene to make one shudder) before appearing in Q's workshop under restoration before its appearance at the end of Skyfall and the familiar straight six bouncing off the walls of Whitehall.
Updates to the Craig DB5 appeared limited to the reuse of machine guns behind the indicators and the ejector seat – threatening to use it when his boss complains about the lack of comfort. It also appears in the latest Bond movie, No Time to Die – and Craig's last outing as 007, featuring the following gadgets.
M134 minigun behind the headlights
Smoke-screen
Mines dispensed under the rear bumper
LED number plate adding number A 4269 00
We're eagerly awaiting the car's latest outing just as soon as cinemas reopen their doors.
It's fair to say that, in his movie guise at least, Aston Martin has been the brand of choice for Bond, from Connery's DB5, through Lazenby's DBS and Dalton's V8 OI to Craig's DB10 – the first and only time Bond had an Aston made specifically for him and the car which served as a precursor to the Vantage.
However, the DB5 remains the most famous car used by 007 and arguably one of the most iconic movie cars ever. Still shots of Connery posing with the car in the Swiss Alps during filming of Goldfinger have become equally immortalised – epitomising both the automotive and sartorial style of the era perfectly.
Over 50 years later, the DB5 remains a highly sought after motor car with many examples surviving and the subject of extensive, not to mention expensive, restoration. Many have been upgraded to add modern creature comforts such as modern power steering, suspension and braking upgrades with air conditioning improved and updated audio equipment discreetly added.
Just under 1,100 DB5's were produced by Aston Martin during its 3 year model run. There are no precise numbers accurately telling us how many are left, particularly as many remain under restoration today.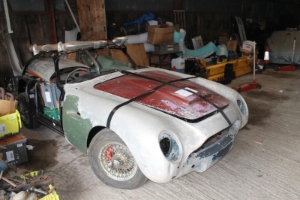 5. Aston Martin DB5 Project – courtesy of Bonhams
As a result values have soared and you'll need to find at least £250,000 to even start your journey – that's for a car needing extensive restoration work.
Aston Martin Auction Tracker here:

Aston Martin DB5 Auction Activity
| | | | | | |
| --- | --- | --- | --- | --- | --- |
| Photo | Model | Date | Estimate | Result | Auction House |
| 1 | DB5 Convertible | 06.12.17 | $2.45-2.65m | $2,700,000 | RM Sotheby's |
| 2 | DB5 Shooting Brake | 15.08.19 | $1-1.4m | $1,765,000 | RM Sotheby's |
| 3 | DB5 Bond Car | 15.09.19 | $4-6m | $6,385,000 | RM Sotheby's |
| 4 | DB5 Goldeneye | 13.07.18 | £1.2-1.6m | £1,961,500 | Bonhams |
| 5 | DB5 project | 17.05.14 | n/a | £259,100 | Bonhams |
Aston Martin themselves joined the party and in 2020 announced a run of 25 "Goldfinger" DB5's. Each car was the result of more than 4,500 hours' labour by the team at Aston Martin Heritage, based at the historic Newport Pagnell site. Aston even persuaded veteran Bond special effects supremo Chris Corbould to join the project and oversee the inclusion of a smoke screen, oil slick deploying from the rear taillights, rotating number plates, rear deflector plate, front and rear battering rams, tyre slashers and "machine guns" behind the front indicators plus a removable roof panel although the optional ejector seat isn't operational.
Inside the central armrest features all the additional switchgear found in the original and there is a radar screen behind the radio, a nod to what was perhaps the first vehicle tracking system seen in public almost 60 years earlier.
These cars are not road legal, despite many of their features seemingly being ideal for motoring in the twenty first century…
Ownership of a DB5 wasn't confined to the relatively lucky few. Corgi sold millions of its toy version; first launched in 1965, it remained in production for a staggering 43 years and was resurrected again in 2015 to celebrate the model's 50th birthday.
In a world dominated by virtual electronic toys, today's children will probably be confused by the appeal of a small car, even if it featured many of the gadgets found in the real thing. None other than James May proclaimed this little model car the most significant in history at the 2015 London Classic Car Show.
This brings us to the conclusion of our DB5 story; Aston Martin has produced some memorable cars in its 107 year history but few have endured in quite the same way. The DB5 isn't the fastest, the most expensive or the rarest (One-77, DB4GT Zagato and the one of one Bulldog in case you were wondering) and some might argue that it isn't the best looking or driving car to bear the famous badge.
Whilst we might debate that last point, what isn't in dispute is the impact super spy custodianship most certainly had.
Lockton has enjoyed an exclusive insurance partnership with the Aston Martin owners Club for 30 years, so whether you own a classic model or one of the very latest cars, we've got you covered. Talk to our team today and find out how we can help.