Like many of you, we're partial to the occasional box set binge and the odd Netflix mini-series.
If you're a car person, then like us, we're sure you'll watch any historical drama with a careful eye on the automotive set dressing – there's nothing worse than catching sight of a Mondeo lurking in the background of a 1950's scene or worse still, the wrong model being used to represent a car from days gone by – or is just us..?
We've recently enjoyed the Netflix epic The Crown and came away impressed with the correct use of vehicles for a period which, so far, spans the late 1940's through the mid 70's – we can't wait to see if Lady Diana's Escort RS Turbo makes a cameo appearance in Series 4.
This got us thinking about cars used by The Royal Family more generally – many members are known to be motoring enthusiasts so we thought we'd take a look at some Royal cars in a bit more depth.
We could start with the Queen's state cars but that's perhaps a little obvious so we'll get to those later. What about Princess Anne's long term love affair with the Reliant Scimitar or the young Prince's affinity for fast motorcycles? (One which we suspect caused their security some sleepless nights).
Tough choices so we decided to begin with Prince Charles – if for no other reason than he had a car named for him which we think is special.
Netflix nailed his later choice with a correctly specified DB6 Volante being shown in several scenes and of course in the real world was his eldest son's choice of wheels to drive his new bride to Clarence House after their wedding in 2011.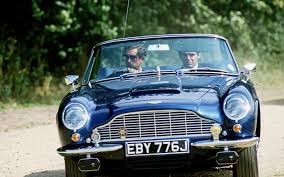 The car was a 21st birthday gift to the Prince from his mother and has remained in his ownership since and, in keeping with his well-publicised views on the environment, has been converted to run on biofuel made from cheese and wine by-products.
This wasn't the last convertible Aston The Prince of Wales owned and when the V8 Vantage Volante was launched during the 1980's, he specifically requested a model without the typically 80's body extensions and spoilers featured at launch. Thus, the "POW" specification model was produced for him and 27 other owners, with no 2 cars alike in terms of final specification.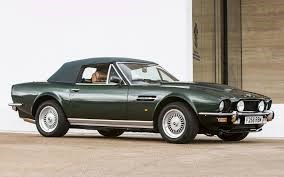 We think that His Royal Highness has impeccable taste but what about the rest of the family?
Her Majesty the Queen trained as a mechanic and has been photographed behind the wheel countless times during her reign, notably using a fleet of Land Rovers at both Balmoral Castle and at her Sandringham estate. The unofficial total is around 30 of various vintages.
Sandringham is also home to a car collection which rivals most museums and private collections anywhere in the world. It includes the very first royal car – a 1900 Daimler Phaeton – and numerous state cars, many from Rolls Royce and Bentley.
The Royal Family's association with these 2 marques can be traced all the way back to the first cars they made and Rolls Royce Phantoms saw service as state limousines until 2002 with a pair of cars, one a 1970 model and the other the 1977 Silver Jubilee car, distinguishable by its raised roofline. They both remain in use by members of the family and the later car was notably used to transport Kate Middleton to Westminster Abbey on the day of her wedding.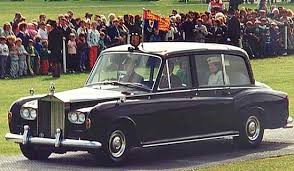 This followed a long line of Phantom models built specifically for Royal duties and dating back to the early 1950's.
2002 saw the introduction of a pair of bespoke Bentley state limousines, built to a specification which was reported to have included input from Her Majesty. They are seen regularly at public events and state occasions and can run on biofuel.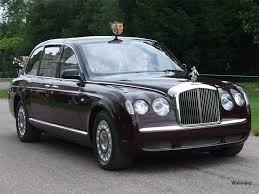 Beyond the official cars seen and instantly recognisable in public, the Royal Household as one would expect has a large fleet of more mundane transport available, heavily featuring British marques such as Jaguar and Land Rover.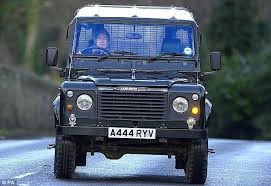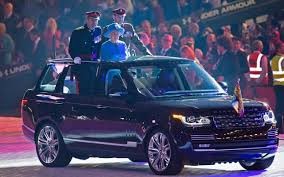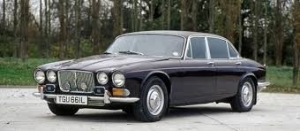 "Princess Anne had one of those you know" – words famously uttered about the Reliant Scimitar but not entirely accurate as she owned a total of nine including the car she was given in 1971 by her parents. Her last car, made by Middlebridge in 1989, remains in her ownership today and bears her private plate 1420 H in recognition of her position as Colonel-in-Chief of the Royal 14/20 Hussars.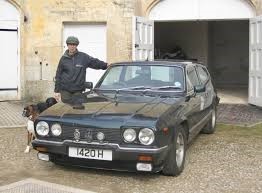 During our research for this article, we came across an interesting piece of trivia – the Scimitar's designer, Tom Karen, was also responsible for three other 70's icons, the Raleigh Chopper, Bond Bug and Luke Skywalker's land speeder (based ironically on a Bond Bug!)
We can't write an article about the Royal Family and motoring without mentioning Prince Michael of Kent – arguably the family's most ardent fan of the motor car. The Queen's cousin is well known for his love of all things automotive and has taken part in numerous events including the London to Brighton Run and racing activities involving all manner of vintage cars, with Bentleys being a particular favourite. He is president of the Royal Automobile Club and Motorsport UK and Royal Patron of the Brooklands Museum – located of course at the birthplace of motorsport in the United Kingdom.
So what about other Royal cars?
Currently, only four manufacturers hold a Royal Warrant to supply vehicles officially to the Royal Household – Bentley, Jaguar Land Rover, Vauxhall and Volkswagen so it's no surprise that other family members are regularly seen driving vehicles made by these companies.
Some of the younger members have been seen driving high performance Audis with the Princes William and Harry being particular fans of S and RS badged variants and their late Mother famously owned the only black Series 1 Ford Escort RS Turbo – well almost, as Ford made 2 extra cars, one as a decoy and the other for her police protection officers.
It's incredibly hard to choose a favourite as Her Majesty and family have owned some genuinely amazing and iconic vehicles. She has been reported as stating that amongst her personal favourites are a relatively humble Jaguar X Type estate and a 1961 Vauxhall Cresta which remains part of her collection today – we think that if these ordinary family cars are good enough for Queen Elizabeth II, then they're easily good enough for us.